NBSI Video Library Project:
An Online Library of Biblical Storytelling
Watch or submit a video of Scriptures
told in the style of the Network of Biblical Storytellers
Biblical Storytelling Videos
Tellings will generally be done according to NBSI style: Tell the biblical text by heart without added commentary or reenactment. Aim for 95% story accuracy 70% word accuracy (NRSV, CEB OR NIV versions preferred) Stay clear of anti-Jewish or racist tellings, (i.e. replace the words normally translated as "the Jews" with Religious Leaders or Judeans,…
Read More
Film in a well-lit area or room. Make sure you look at the setting through your camera lens and then test shoot a few times. Always play it back so you can see how the lighting looks. The sun is one of the best light sources for video. If you're filming in natural light, do…
Read More
We are an ecumenical, openly welcoming, international organization whose mission is to encourage everyone to learn and tell biblical stories.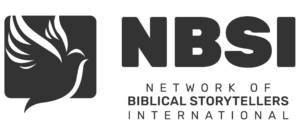 The Network of Biblical Storytellers CANADA is an affiliation of people who practice the art and discipline of telling Christian scripture by heart. Guided by God to deepen our understanding of the Word, our mission is:
to encourage everyone
to learn and tell scripture by heart.​
"GoTell Communications" equips people to discover and tell biblical stories by heart as a spiritual discipline for embodying Jesus' way of peace in the world.
Michele Rizoli
Michele is a certified biblical storyteller (
Academy of Biblical Storytelling
), and coordinates the video library on behalf of NBSI. She serves as a pastor with the Mennonite Church and lives in Toronto, Canada.
Questions about getting started? Drop us a line to find out more!